INTRODUCTION
Capital statement has become one of the most common investigation method used by the Inland Revenue Board to detect under-reporting of income./tax evasion. Knowing how to help taxpayers to prepare a proper capital statement correctly has become a common phenomenon. It is not difficult to learn how to do it.
Honing your tax negotiation skills and handling tax appeals professionally.
Updates on current leading tax cases.
COURSE OUTLINE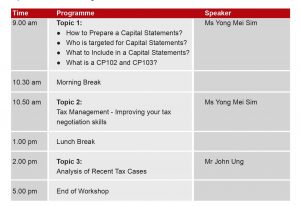 PROFILE(s)
Yong Mei Sim has served over 35 years in the Inland Revenue Board of Malaysia ("IRB") and held the last position as the Principal Assistant Director of the Penang branch, before retiring in 2016. She obtained a Bachelor of Science Degree majoring in Economics with a Second Class Upper from the University Science of Malaysia in Penang. She was later awarded the prestigious JPA scholarship to pursue and successfully completed her Master's of Science in Taxation from the Golden Gate University in San Francisco, USA. During her tenure in office, she has been, inter alia, an audit manager in charge of the Payroll Taxes Unit, Field Audit and Desk Audit Unit. She had actively assisted the Federal Councils of the IRB in handling tax litigation cases. Among the landmark tax litigation cases which she was directly involved are ICTSB vs DGIR, PSSB vs DGIR and Marigold (M) Sdn Bhd vs DGIR. With her vast knowledge and experience in the field of Malaysian taxation, she has been invited by the IRB and other professional bodies to speak extensively around the country and to share her valuable experience and expertise on income tax updates and all other relevant taxation matters.
John Ung Soon Hock graduated with a First Class Honours LLB Degree from the University of Hertfordshire, UK and obtained his CLP in Malaysia. He is admitted as an Advocate & Solicitor of the High Court of Malaya. He is based in Penang and handles a wide range of general civil litigation such as corporate disputes, contract, defamation and income tax matters. Among the income tax matters that he has handled include preparation of legal opinion, reinvestment allowance, badges of trade, intra-group relief, Transfer Pricing Documentation and tax appeals to the Special Commissioners of Income Tax and the Civil Courts. Prior to joining private practice, he previously worked at the Attorney General's Chambers as a Federal Counsel and Deputy Public Prosecutor.