The Tax Guardian is the official journal of the Chartered Tax Institute of Malaysia and is circulated to members and students of CTIM as well as subscribers, both corporate and individuals.
The Tax Guardian carries a wide range of technical articles on topical tax issues analysed by leading practitioners, academicians, lawyers and the authorities. It also provides apt summaries of recent developments in taxation both locally as well as internationally to meet the increasing demands of busy tax practitioners. The informative articles will undoubtedly enhance the technical knowledge and competency of members, students and readers.
The Tax Guardian is published quarterly i.e. the months of January, April, July and October.
To download order form                          Click here
Contact Telephone                                   03-9212 7848 ext 163
Email                                                             publication@ctim.org.my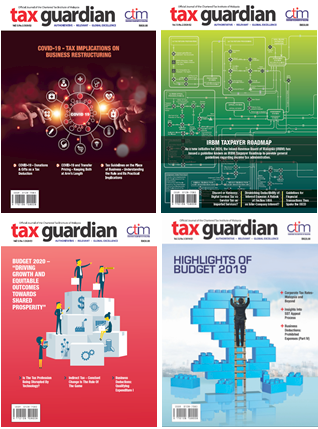 2023 Budget Commentary and Tax Information
2023 Budget Commentary and Tax Information Booklet – Open for Sales!
Do not miss this opportunity to get your hands on this highly sought-after
booklet! Not only is this booklet an excellent source of information on the 2023 Budget proposals, it is an outstanding repository of tax facts which every practitioner can access within a page away.
Please email us at publication@ctim.org.my to place your order.
To download order form                          Click here
Contact Telephone                                   03-9212 7848 ext 163
Email                                                             publication@ctim.org.my