INTRODUCTION
The 2022 Malaysian Budget Proposals will be announced and tabled in Parliament on Friday, 29 October 2021 by the Minister of Finance. The theme for this year's Budget Proposals is in line with the Government's focus on strengthening the country's economy. Join us at this year's CTIM Budget Seminars which will provide participants with a practical understanding of the key tax changes presented in 2022 Budget Proposals.
Benefits to participants:
Obtain information and clarification from the Ministry of Finance (MOF) and Inland Revenue Board of Malaysia (IRBM) on the latest changes and impact to taxpayers with regard to the 2022 Budget Proposals.
Get to know the key issues arising from the major Budget changes in 2022 and their impact on your business.
Receive 8 CPD points recognised by MOF as one of the mandatory Budget Seminars for the purposes of Section 153, Income Tax Act 1967.
Who Should Attend:
Chief Executive Officers
Chief Financial Officers
Financial Planners & Controllers
Tax Agents
Tax Advisors and Consultants
Corporate Accountants
Corporate Tax Managers/Executives
Public Accountants
Business Consultants
COURSE OUTLINE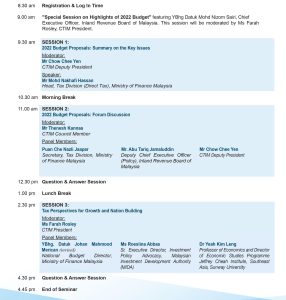 PROFILE(s)